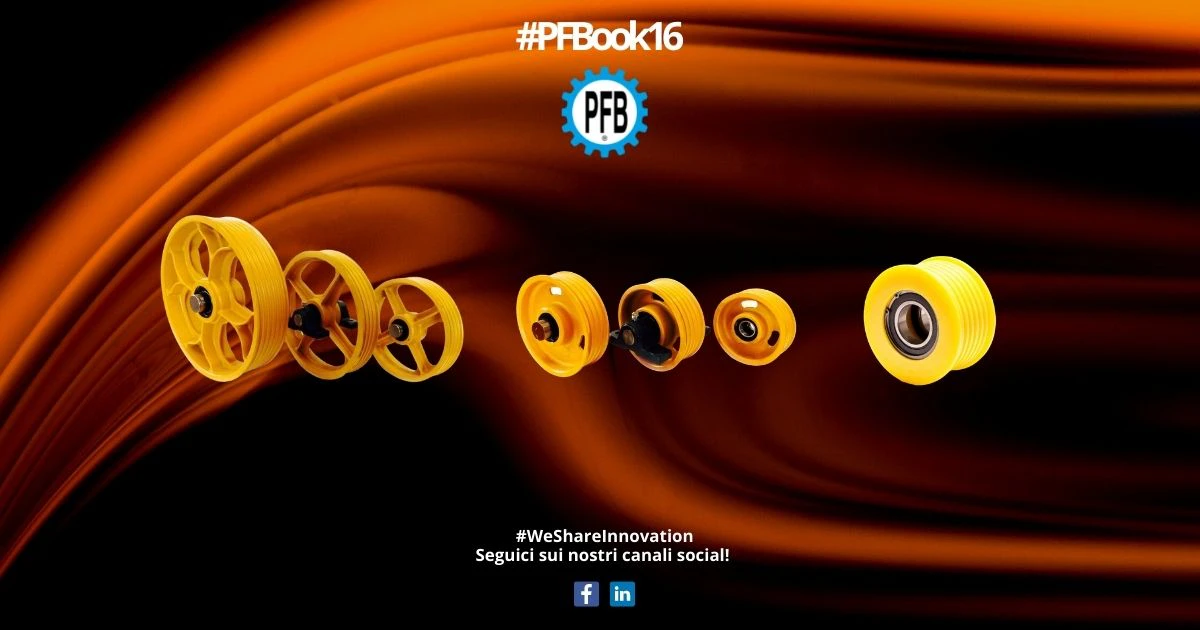 What is an elevator pulley and how does it work?
A pulley is a device on which the system's ropes turn and can be either a deflection or a traction pulley.
Divertor pulleys are divided in two categories: dead eye (with the internal structure practically closed) or spoked. Blind pulleys are normally used for hydraulic systems and spoked pulleys for cable systems, but both can also be commonly used for different types of systems.
Divertor pulleys are mounted on the installation in order to bring the ropes to the cabin and/or to the counterweight by transmitting their motion.
The traction pulley is mounted directly on the winch and provides the motion to the plant.
Are the pulleys certified?
No, because there is no reference standard for pulleys. Nevertheless, PFB has carried out static load tests, taking the pulleys up to their breaking load, in order to guarantee a minimum safety coefficient of 6 between the static load indicated in our catalog and the breaking load measured during the test. The certificate was issued by the certifying body CERMET.
Do they need maintenance?
No, it is however necessary for the maintenance technician to carry out regular checks on the wear of the pulley grooves and the correct functioning of the bearings. If one of these checks proves to be non-compliant, it is necessary to replace the pulley as soon as possible to avoid compromising the functionality of the system.
PFB pulleys
PFB fully satisfies the needs of the market, providing a wide range of pulleys in G25 cast iron with hardness HB 200 ± 20.
Our range includes: divertor standard, homelift pulleys, divertor pulleys for high static load, traction pulleys, dead eyes pulleys for ropes in derogation, solid for hydraulic systems, special pulleys. On request we can also supply plastic sheaves according to customer's drawing.