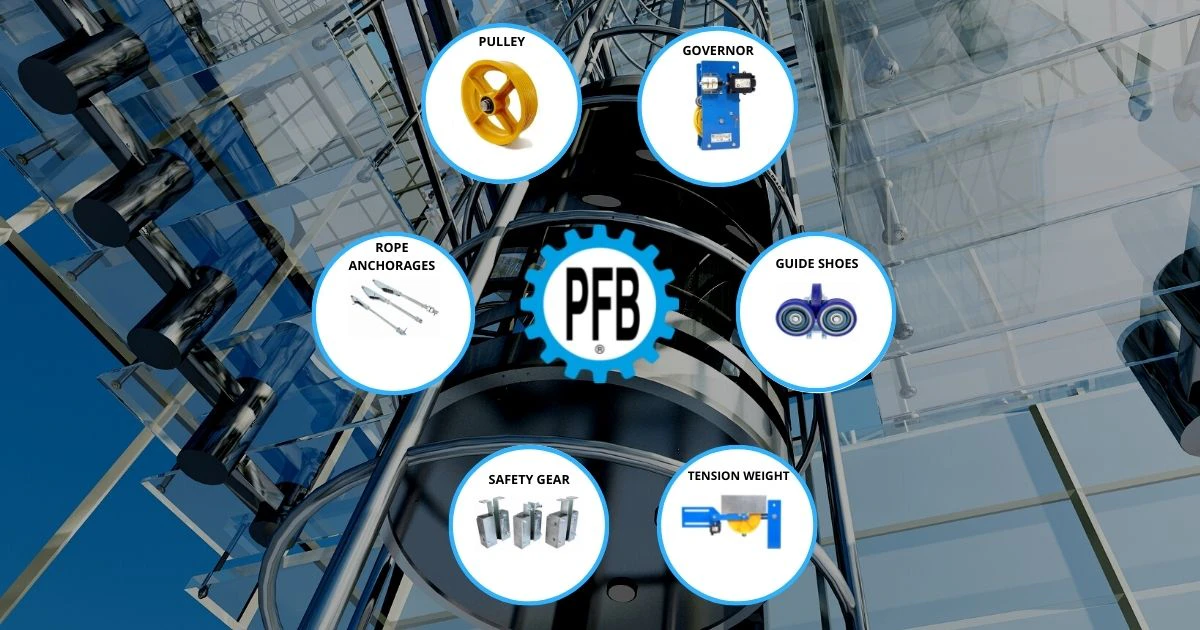 Which are the lift components?
There is a universe of components that make up a lift, and at PFB we design and manufacture the majority of them.
Our product range is divided into safety and non-safety components!
Here is what their function is:
What is the function of our safety components?
Overspeed governor: If the lift car exceeds its nominal speed (until the tripping speed is reached) during the ascent or descent, the overspeed governor engages and triggers a safety gear on the governor's cable, which is located in the lift car. The car stops and is held by the guides. Therefore, the governor is a crucial and indispensable product for passenger safety.
Safety gear: the safety gear is the device that allows the braking of the elevator in case of intervention of the governor which is activated if there are anomalies during the elevator travel.
What is the function of the other components?
Tension weight: it is a device used to keep the overspeed governor rope under tension. It is equipped with a safety contact that is activated by cutting off the current if the tightener rope loosens due to excessive elongation.
Guide shoes: they are an essential component for the movement of the car on the rails. More precisely, guide shoes allow the car to move smoothly along the rail route, ensuring the car is upright and the stability of the installation.
Pulleys: A pulley is a device on which the system's ropes turn and can be either a deflection or a traction pulley. Divertor pulleys are divided in two categories: dead eye (with the internal structure practically closed) or spoked. Blind pulleys are normally used for hydraulic systems and spoked pulleys for cable systems, but both can also be commonly used for different types of systems.
Rope attachments: The rope attachments have the function of binding the two ends of the rope, keeping it under tension.